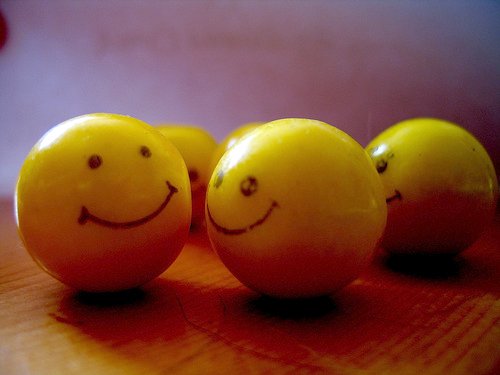 .....Here's what some of my clients are saying.....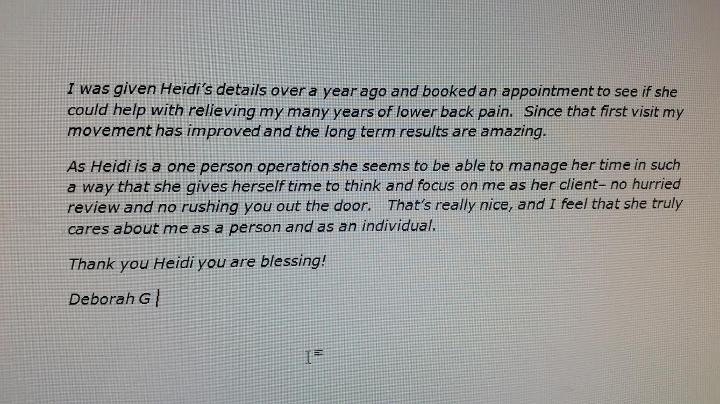 Ethan (baby) - Severe Eczema
Hi Heidi,

THANK YOU!!!!!!!!!!!!!!!

Since seeing you Ethan's skin has STOPPED WEEPING!!!!!! Yay! We are so happy and so thrilled with your progress.

His skin is still red and a little bumpy but we have achieved what we wanted which is less infection.
Thank you so much for all your help. We really appreciate everything you have done. We are going to continue to see our dermatologist every couple of months, however, if his skin flares again, we will give you a call.

Thanks again for your assistance.
Amy, Martin and little baby Ethan
xoxoxoxoxoxoxoxoxoxoxoxoxoxoxo
Jodie - Nut and egg intolerance/allergy, back, neck and leg pain and general well being.
Bianca and her children Ethan and Emily - Food Allergies/Intolerances

Dear Heidi,

Thanks so much for all our ENAR Treatments for food allergies and intolerances. Both Ethan and Emiliy's diets have been opened up so dramatically that socially the kids and myself find birthday parties and social occassions so much easier and liberating. I too can now have so many foods that would in the past be unthinkable even in trace amounts for their side affects.

I am also off all hayfever medication and & I had been using them for 11 years!

Once again, thanks for all your fabulous work.

Regards,
Bianca.


Simone - Chronic Hayfever
Mark - Shoulder and arm pain
Maddie- Eczema and Allergies
Maddies eczema is looking awesome. The patches are still definitely there but looking better than I have seen them in a very long time...probably since she was about 4months old. THANK YOU THANK YOU THANK YOU... I think you may have solved Maddies main problem and I am really touched that you cared so much that you were discussing Maddies problem confidentially with your husband and that may be the reason Maddies eczema is looking so great!. It just shows what your job and your clients mean to you. You are a superstar in my eyes:)
I will keep you posted on our progress!
o x Maddie and her very happy mummy!
Lynda - Allergies, back/neck pain, hormone balancing, etc

Hi Heidi,
Just wanted to let you know how much you have changed my life....
You have worked on my allergies.. wheat, gluten & dairy.
You have worked on my back & neck pain.
You have worked on regulating my hormones.
You have worked on my low iron levels.
You have worked on my blood sugar levels.
You have given me a couple of truly wonderful facials (which I can't wait to have my next one).
My food allergies (Gluten in particular) were very severe. I had had them for 12 years and if I ate them before, I would be sick within 10-20 minutes. After my first couple of treatments, my body did feel like it had been hit by a truck. This passed within 2 days and my body started to heal. I can now eat these food groups with no reaction in my body whatsoever. Oh the first time I had a real pancake – absolutely divine. I can now eat out with my friends and don't always have to have just a salad!
My back & neck pain has eased for the first time in 20 years.
My hormones are starting to settle down and I'm not so agro when "it's that time of the month".
My iron & blood sugar levels I'm sure are starting to come up to normal as the headaches & dizziness has improved greatly.
The facials are absolutely divine and leave your skin feeling soft & absolutely glowing. People are starting to comment on my skin after only 2 treatments and I'm looking forward to having my next one.
You are truly a blessing in my life and I love coming to see you as you really care about what is happening to me and listen to what I have to say about how my body is reacting to my treatment.
Thanks heaps for giving me my life back!
Lynda
Lynda has now become a trained ENAR Therapist due to her overwhelming success with her treatments and her love for Natural Therapies.
You can find Lynda at www.lyndamenartherapy.com
Sydney - Quit Smoking
Hi Heidi,
Just wanted to say thank you so much for helping me with your Quit Smoking treatments. I was a smoker for just over 10 years. I was a heavy smoker constantly trying to quit and basically needing a straight jacket and padded cell while quitting and never getting very far. I went into your program with an open mind and was absolutely ecstatic with the results. My cravings were hardly noticeable, my stress levels were manageable and I didn't gorge myself silly on food to make up for not smoking. I have been smoke free for a month now and am just so happy that my son loves cuddles more than ever and I can go near people and not have to worry about smelling like an ash tray. I have told everyone I know about this treatment and the people that know what my habit was like know that the results speak for themselves.
Thank you :)

J.T - Facial
Hi Heidi, Just wanted to let you know how thrilled I am with the results of the ENAR facial.
True to your word from the very first session my complexion was noticeably brighter and so soft and silky to touch. Following the second session skin discolouration had reduced and a persistent frown line on my brow has all but disappeared. The fine lines around my eyes and lips seem to have been tightened and lifted, real results immediately.

The improvement of the skin on my neck and décolletage (cleavage) have been the biggest surprise to me - amazing. After years of daily exposure to the Queensland sun they now feel as soft as my skin in not so exposed areas!

This unique treatment is affordable and your passion and genuine caring nature make this experience pure bliss.
I will definitely be seeing you for a regular maintenance visit.

Thanks so much...............................J.T. Massage Therapist Lota
Helen - Quit Smoking
Heidi ...... From 30 smokes a day for 30 years to NOTHING almost overnight! Incredibly amazing. Put all those sceptics to shame (me included) - I thought oh well the worst that would happen is I would be out the cash for the 3 treatments.
Considering I have never felt this amazing (well at least in the last dozen years or so) - thank you!! I am smoke free and stress free now!! You are amazing. I feel incredible - like I have a layer of teflon all over me!!

Thank you for giving me the opportunity to grow old.

Helen D
Adrienne - Severe pain in hip and knee

For some years now I have had worsening pain in my hip and knee,. At first I managed to lie on my side with a pillow between the knees, but eventually was unable to stand that. So for some time now I have only been able to sleep on my back. Had been going to physio with a little improvement, but it even went to the stage I was having difficulty going up steps.
My sister mentioned that she had been having ENAR treatment with Heidi with very good results. She has 7 pins in her back and ongoing severe pain, and recently had major surgery. She said her pain had now been reduced to the stage that she no longer had to take strong pain relief. She is now standing upright and looks very well.
I have been going to Heidi for ENAR Therapy now for about 5 weeks, and my analgesic (pain killer) consumption has just about stopped. I no longer have to wrap my knee and now can sleep for long periods on my side.
I would, and have, recommended this ENAR Therapy to anyone that has chronic pain.
Adrienne Margerison

Cecilie - Severe Back Pain
A sufferer of pain 24/7 after 2 spinal operations and a recent mastectomy, I was referred by a friend to have a go and try ENAR treatment. I was willing to try anything once. After my first treatment I felt like I had been hit by a bus. After that initial treatment the pain actually left my body, I found I could stand up straight and do many things that I had not been able to do for quite a few years. I had constant 'restless legs' which would keep me awake at night, and those symptoms have all but left my legs. I felt like a normal person for the first time in many years.


Thank you Heidi for introducing me to your wonderful treatment
Regards
Cecilie
Highclere Collies, Brisbane
http://www.highclerecollies.com
Olivia- Allergies
The hospital did the skin tests on me and they said I'm no longer anaphylactic to Egg, Dairy or Nuts! I had an egg on toast the other day, it was nice, never had a texture like that before, I didn't LOVE it, but it was nice to try it and not feel terribly sick!! I can't believe I can have it. Mummy bought me my first advent calendar (the cardboard box with little doors and you get chocolate each day before Christmas). I've never had one of these before, can't wait! Oh yeah – I also had ice cream with chocolate topping at a restaurant!! Now when Mummy asks to test and treat me for allergies I really enjoy it as I know I'll be able to eat more things. My Daughter Olivia 9 years old (in her own words).
Matthew- Quit Smoking
Thanks for everything, your work has been excellent for the quit smoking treatment… still not smoking! Matthew
Sam - Rheumatoid Arthritis in feet
"I suffer with a lot of aches and pains in both feet, but after only one session with the ENAR, my feet felt amazing and the rest of my body felt so relaxed yet energised! Would recommend to anyone!!"
Michael - Quit Smoking

I can't believe how good it is…I'm a sceptic when it comes to anything different, but so glad I tried it as I haven't had the urge to smoke after one session!!
Thankyou so much!
Michael
Ben - Chronic Fatigue
Feeling great after Tuesday when I saw you. Only taken 1 cold n flu tablet since. Not too bad since I usually take ages to get over a cold due to my Chronic Fatigue!
Donna- Mother of 7 year old with Eczema
"My daughter's skin is better than I have ever seen it. The Eczema on her knees are smooth as a baby's bottom and her elbows are much better. Looking forward to seeing you on Wednesday. Thanks, Donna".
"Thanks Heidi, for helping me with my lower back pain.
I am able to go from sitting to standing with much less pain and
I am looking forward to my next session and gaining more and more painless mobility" Anonymous
Mark - Diabtetes

I have undergone treatment for poor circulation in my legs and particularly my toes as I suffer from diabetes. After my first treatment the effects were quite amazing with a great improvement in feeling and a lot lower blood sugar level. A subsequent treatment one week later has improved the circulation again and also greatly reduced my stress levels and lessened the need for medication for my gastro-intestinal ulcers.
I am hoping to continue treatment and fully expect a substantial improvement in my circulation, sugar levels and stress management.